Bruce Willis biography will provide detailed information about his work, affairs, life, achievements and other facts. Walter Bruce Willis was born on March 19, 1955, in Idar-Oberstein, West Germany, to an American father, David Andrew Willis, and a German mother, Marlene Kassel. In 1957, he moved to the United States with his family. His career began on the Off-Broadway stage in the 1970s.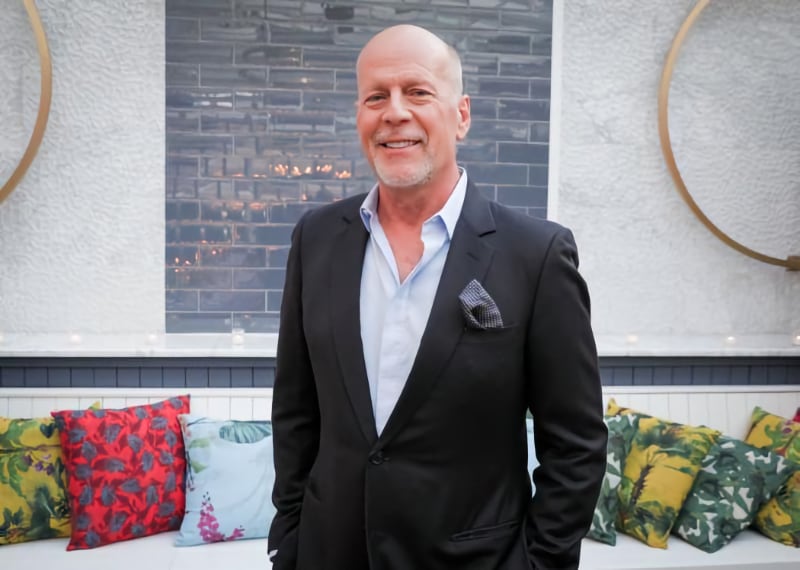 Actor and musician Bruce Willis is often known for playing intelligent or fast-paced characters in spectacular action films. Collectively, he has appeared in films that have grossed over $2.5 billion, placing him among the top ten stars in terms of box office revenue.
early life
Walter Bruce Willis was born in Idar-Oberstein, West Germany. His mother was born in Kassel, Germany, while his father was an American soldier. Willis is the eldest of four children with a sister named Florence and two brothers, Robert (deceased) and David.
After leaving the military in 1957, Willis's father moved his family to Carneys Point Township, New Jersey. Willis described himself as being from a "long line of blue-collar people". His mother worked in a bank, and his father was a welder, a master mechanic, and a factory worker. Willis attended Pence Grove High School in his hometown, where he had trouble stammering. His classmates nicknamed him Buck-Buck. Willis joined a drama club in high school and his stammer was reduced by performing on stage. In the end, he was appointed the president of the student council. He attended college at Montclair State University.
After graduating from high school in 1973, Bruce Willis took a job as a security guard at the Salem Nuclear Power Plant. He transported work teams to the DuPont Chambers Works factory in Deepwater, New Jersey. After working as a private investigator, Willis turned to acting. Willis joined the drama program at Montclair State University, where he was cast in the class production of Cat on a Hot Tin Roof. He dropped out of school in his junior year in 1977 and moved to New York City, where Willis became a bartender at the Kamikaze Art Bar on West 19th Street in the early 1980s. At that time he was living in Hell's Kitchen in Manhattan. He appeared in 1982 as an extra in Paul Newman's final summary scene in The Verdict.
career
Bruce Willis left New York City and moved to California. In 1984 he appeared in an episode of the Miami Vice TV series titled "No Exit". After countless auditions, Willis contributed to short films that were not usually featured in the credits before playing private investigator "David Addison" alongside sultry Cybill Shepherd in the successful romantic comedy television series Moonlighting (1985). .
He is best known for playing John McClain in the Die Hard series, which were mostly critical and consistent financial successes. He has also appeared in over 60 films, including box office appearances such as Look Who's Talking (1989), Death Became Her (1992), Striking Distance (1993), Pulp Fiction (1994), 12 Monkeys (1995), The Fifth Element Hits included. 1997), Armageddon (1998), The Sixth Sense (1999), Unbreakable (2000), Sin City (2005), Live Free or Die Hard (2007), Raid (2010), Moonrise Kingdom (2012), The Expendables 2 ( 2012) and Looper (2012).
Willis's films have grossed $2.64–3.05 billion at the box office in North America. He is the ninth highest actor in a leading role and the 12th highest turnover including supporting roles. He is a two-time Emmy Award winner, Golden Globe Award winner and a four-time Saturn Award-nominated actor.
relationships and children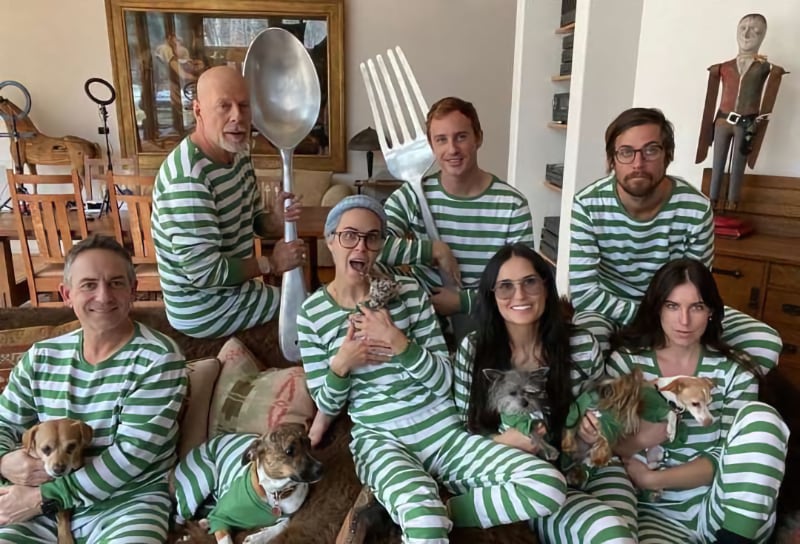 Bruce Willis meets actress and model Demi Moore at the premiere of the movie Stakeout. They were married on November 21, 1987. Willis and Demi Moore had three daughters named Rumer Willis (born August 16, 1988), Scout LaRue Willis (born July 20, 1991) and Tallulah Belle Willis (born February 3, 1994). Willis and Moore announced their separation on June 24, 1998. They filed for divorce on October 18, 2000, and on the same day, the divorce was settled, and they share custody of their three daughters.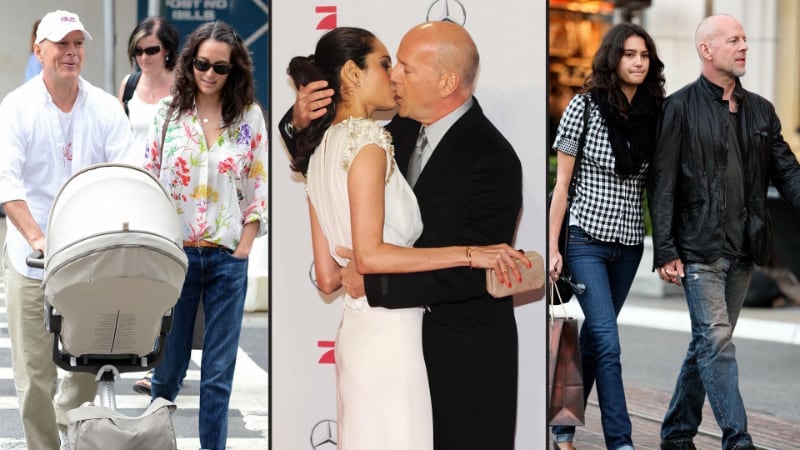 Willis was dating actress Brooke Burns until they split in 2004 after ten months together. He married model Emma Heming on March 21, 2009 in Turks and Caicos; Guests included his three daughters, Demi Moore and Ashton Kutcher. The ceremony was not legally binding, so the couple remarried six days later in a civil ceremony in Beverly Hills. Willis and Heming have two daughters, Mabel Ray born in April 2012 and Evelyn Penn born in May 2014.
Bruce Willis Biography

Name
Bruce Wills
Real Name
Walter Bruce Willis
surname
Bruno
date of birth
March 19, 1955
old man
65 years (in 2020)
birth place
Idar-Oberstein, Rhineland-Palatinate, West Germany
nationality
American
profession
Actor, Film Producer, Singer
Religion
Lutheran at one time, but no longer practicing
Sun sign
Pisces

Bruce Willis height, weight and body measurements

height
6′ 0″ (183 cm) almost
weight
83 kg (183 lb/lb) almost
chest size
44 inches
waist size
34 inches
biceps size
14 inches
shoe size
10 (USA)
hair color
bald (current: no hair)
eye color
Blue
body type
strong
sexual orientation
Straight

Qualification / Education

school
not known
College
Montclair State University

family

father
David Willis
Mother
to marlene
Sister
flo willis
brother
David Willis, Robert Willis

Bruce Willis Affairs (Relationship Status)

What is the marital status of Bruce Willis? (single, engaged, married or divorced)
married
How many children did Bruce Willis have?
Five (Rumer Willis, Scout Willis, Tallulah Belle Willis, Evelyn Penn Willis, Mabel Ray Willis)
Who is Bruce Willis's wife and ex-wife?
Demi Moore (m. 1987; Div. 2000)

Emma Heming (m. 2009)
Bruce Willis Net Worth and Salary
Bruce Willis is an American actor, producer, and "musician" who has a net worth of $260 million. Throughout his career, Bruce has always been one of the highest paid leading male actors in Hollywood. Between the late 1980s and the present, Willis earned hundreds of millions of dollars in film salaries alone. His 1999 earnings from The Sixth Sense totaled $100 million, thanks to a generous cut from the film's gross. His starting salary was $14 million. At the time of this writing, it is the second-highest earning earned by an actor in a film. However, technically the #1 record, $156 million, was won by Keanu Reeves in the two Matrix movies. So you could say that Bruce's sixth sense payday is the biggest in Hollywood history.
Trivia: Fast Facts About Bruce Willis
Born on a US military base in Germany to a German mother and an American father.
Before going to college, he worked in a chemical factory.
He graduated from Penns Grove High School in Penns Grove, New Jersey, where he was raised.
On 6/24/98 he and Demi Moore announced that they were ending their marriage of 11 years. No reason was given.
She credits Will Smith with helping her get her divorce from Demi Moore and accepting Ashton Kutcher as her new husband.
Bruce Willis has five daughters: Rumer Willis (b. August 16, 1988), Scout Willis (b. July 20, 1991) and Tallulah Willis (b. February 3, 1994) with ex-wife, Demi Moore and Mabel Ray Willis. (b. April 1, 2012) and Evelyn Penn Willis (b. May 5, 2014) with wife Emma Heming Willis.
He is left-handed and appears in most of his films. In The Sixth Sense (1999), he learned to write with his right hand, so it would not be so easily noticeable that his character was not wearing his wedding ring.
On 3/21/09 he married his girlfriend of one year, Emma Heming Willis, at his home in Parrot Cay, Turks and Caicos.
Quentin Tarantino believes Willis' performance in Unbreakable (2000) is the best performance of his career.
Inducted into the New Jersey Hall of Fame in 2011 for his contributions to the arts and entertainment.
Willis is a huge supporter of the NFL team New York Jets.
Julia Roberts was the only celebrity to attend Danielle Moder's wedding.
Awarded a star on the Hollywood Walk of Fame at 6915 Hollywood Blvd. on 16 October 2006.