Volodymyr Zelensky He is the sixth President of Ukraine since May 2019, succeeding Petro Poroshenko. He was earlier doing comedy and producing films or series in the entertainment industry. The war against Russia in crisis, he is the only person who can end this conflict. But now Russia has almost invaded Ukraine and withdrew from warnings of war.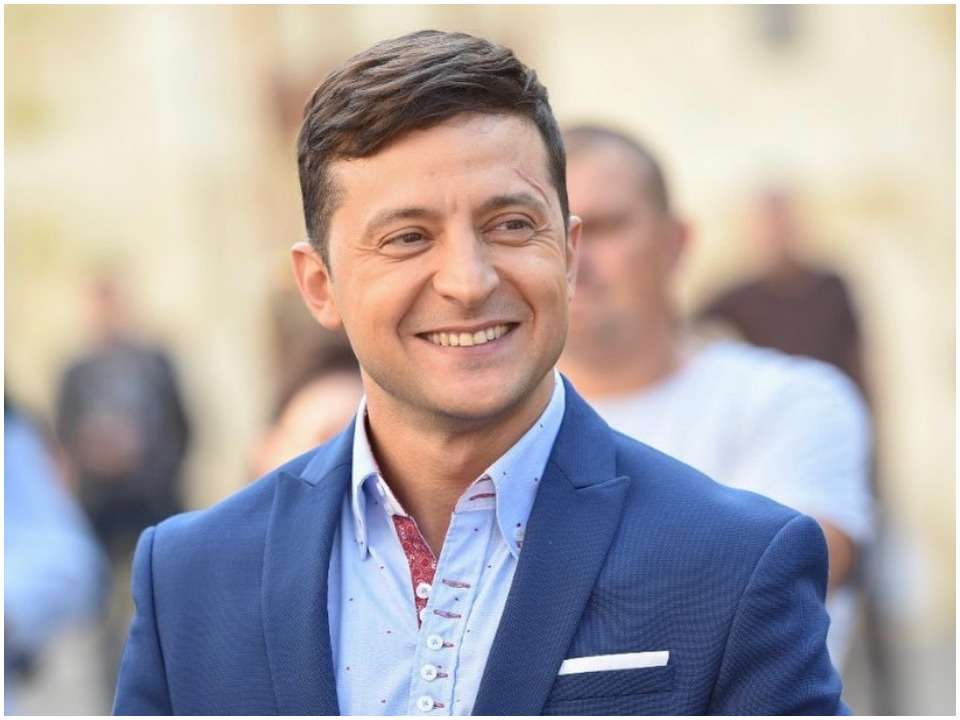 early life
Volodymyr Zelensky was born on 25 January 1978 in Krivy Rih, Ukraine. The names of his parents are Rimma Zelenskaya and Oleksandr Zelensky. His parents are Jewish. He has not shared any details about his siblings with the media. His grandfather Semyon Ivanovich Selensky served in the Red Army during World War II.
Zelensky completed his primary education and lived where his father worked, in the Mongolian city of Erdenet. He also completed his high school education but did not disclose any details. He later went to the Krivi Rih Institute of Economics and earned a law degree. But he did not go into the legal field.
Volodymyr Zelensky career
Zelensky began his career by joining the KVN team in a comedy competition and winning the 1997 KVN Major League. He later focused on making a career in the entertainment industry. From 2006 to 2019, he appeared in many series and films. Some of the projects she has worked on are Dancing with the Stars (Ukraine), Swati, Servant of the People, Love in the Big City, Office Romance, Our Time, 8 First Dates, Love in Vegas and many more.
After working at Servant of the People, he expressed interest in a political career and decided to pursue it. He wanted to bring professional, decent people to power and change the mood and tone of the worldwide political establishment as much as possible. In 2018 he led a successful presidential campaign.
political career
In 2019 he announced his candidacy for the Ukrainian presidential election. On April 21, 2019, he defeated President Petro Poroshenko by 73% of the vote. His first major proposal was to change the electoral system, which was rejected by the Ukrainian parliament. On July 21, 2019, his political party won the first single-party majority in Ukrainian history with 43% of the party list votes in parliament. That is, out of 424, 254 seats were occupied by his party.
During his presidency, he met with presidents of various countries to discuss peace and trade. Honcharuk government was formed on August 29, 2019. He dismissed Bohdan as the head of his presidential administration and appointed Andrey Yermak. The following year he was seen with his family at the Al Bustan Palace in Oman. He went there to attend meetings, have a good time with his family, and the expenses were met from his personal account. He shot his trip to Oman due to the Ukraine International Airline Flight 752 plane crash near Iran.
On March 24, 2021 he signed Decree 117/2021, approving the strategy for the dissolution and reinvestment of the Temporarily Occupied Territory of the Autonomous Republic of Crimea and the City of Sevastopol. In the same year he visited the US and held high-level talks with President Joe Biden. He also went to Silicon Valley and met tech companies like Apple Inc., Stanford University, and met with the California National Guard. While he was giving a speech at the United Nations, there was an attempted murder and his driver was hospitalized with three bullet wounds as he was the closest aid.
Russia-Ukraine crisis
In 2021/22 there was a Russian-Ukrainian crisis. In April 2021, a Russian army stood at Ukraine's borders and spoke to Joe Biden to urge NATO members to expedite the bid for Ukraine's membership.
On November 26, 2021, he accused Russian and Ukrainian oligarch Ryant Akhmetov of plotting to overthrow his government. The following month he called for preventive action against Russia. The public was terrified of the threat of war, so he issued a video message to avoid panic.
The Russian invasion put Ukraine's economy at risk, something Zelensky and US President Joe Biden disagreed with. As the invasion progressed, Zelensky appealed to give up and move on to Moscow. In return, the country was also assured security guarantees for the abandonment of the third largest nuclear arsenal.
He reacts to this situation very calmly and the public does not like his behavior, as he does not expect a conflict with Russia. According to the New York Times, he is overwhelmed because he cannot handle the situation well. They are also running out of options while Russia is ordering more troops.
Volodymyr Zelensky social media
Zelensky is active on various social media platforms. He uses social media to express his views and opinions on current events around the world. In April 2019, he joined Twitter and he has 496.3 thousand followers. He has 9.4 million followers and 197 followers on his Instagram account. He also has a YouTube channel where he has 656,000 followers.
Volodymyr Zelensky biography

Real Name
Volodymyr Oleksandrovich Zelensky;
Date of birth
25 January 1978
Age (as of 2022)
44 years
birth place
Krivy Rih, Ukraine
nationality
Ukraine
Work
President of Ukraine
Religion
Christianity
Sun sign
Aquarius

physical statistics

height
feet in inches – 5′ 7″ – in centimeters – 170 cm
weight
in kilograms – 72 kg – in pounds – 158 pounds
shoe size
8 (USA)
hair color
dark brown
eye color
dark brown
body type
average

family

father
alexander zelensky
Mother
Rimma Zelenskaya
Sister
,
Brothers
,

Qualification / Education

school
,
university
Kyiv National University of Economics

Relationship Status

marital status
married
Who is the wife of Volodymyr Zelensky?
olena selenska
Children
Two (Alexandra Zelenskaya and Kirill Zelensky)
personal life
Volodymyr is married to Olena Kiyashko. They met for the first time while studying in the same school and got married in an intimate wedding ceremony in September 2003. They were blessed with a daughter named Alexandra in July 2004. Later in January 2013, their second child, Carillo, was born.
Volodymyr Zelensky and his fate
Volodymyr Zelensky has earned a lot from his political career. He was earlier also an actor, earning mostly from his projects and brand promotions. According to sources, his net worth was estimated to be around 37 million hryvnia, which is equivalent to $1.5 million.
Facts about Volodymyr Zelensky
His father is Professor and Head of the Department of Cybernetics and Computer Hardware at the Krivi Rih Institute of Economics.
His mother worked as an engineer.
He passed English as a foreign language test and received an educational scholarship to study in Israel, but his father did not allow him.
He worked as a producer in the TV series Swati.
He is fluent in Russian, Ukrainian and English.
In 2016, his daughter participated in a show called The Comedy Comet Company Comedies Kids and won 50,000 hryvnia.
Polish President Andrzej Duda was one of the first European leaders to congratulate him.
In the Trump-Ukraine scandal, Zelensky denied all rumors that he was pressured by Trump and said that he did not want to interfere in foreign elections.
In 2020 he tested positive for Covid-19 and remained in the hospital for three days.